Switching Billing Companies: The Risks of Falling for an Intro Promotion
Switching Billing Companies:
The Risks of Falling for an Intro Promotion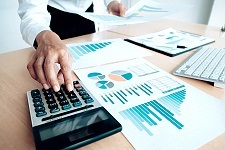 By WCH Chief Operating Officer Olga Khabinskay
Every day, medical offices field calls about saving money on all kinds of deals that sound too good to be true. They usually are. The same is true for dubious medical billing promotions. While they may promise the world, they often deliver subpar services at lower rates that put practices at risk for noncompliance and could cost thousands in lost revenue.
Lately, more and more clients have been asking us about both the foreign companies that call repeatedly to entice them with deceptively low rates, and the larger, more well-known software-based companies that approach them with sales promotions and technology packages that, ultimately, aren't supported by knowledgeable, accessible account representatives.
Before making a change, make sure you know as much as possible about the company you're trusting with your business. Here is a check list for doing due diligence:
Ask peers: Word of mouth is still the best referral. Be direct. Ask if their biller protects them. Do they do random chart audits? Do they educate them and their staff? Can they access claims and practice data and run reports? How do they communicate?
Research: What are professional magazines and publications saying about billing issues and concerns? Does the company you're considering offer solutions?
Consult your local medical society: Ask for recommendations, referrals and complaints.
Search online: Interview several companies, ask the same questions and choose the best. Look beyond rates for reliability, clarity, transparency, and safety.
Start slowly: Offer a new company selective billing for three months. Don't change any billing patterns yet. Ask questions, request explanations, and see how it goes before locking into a binding long-term contract with a bad company.
Buyer Beware
While the lure of flashy sales promotions that offer something for nothing (or at least a lot cheaper) is appealing, price is only one consideration.

Generally, professional companies simply don't offer their services with a 50 percent discount. Billing companies that charge way below average and offer extras for free are more interested in signing new clients en masse than taking care of them long term.

With rates as low as 1.9 percent, these billers are merely entering data. They won't be able to provide compliance, collections or continuing education. When claims are denied, they will most likely reprocess them without fixing any problems, setting in motion a circle of denials that costs providers time, money and reputation.

In fact, medical practices can lose up to 66 percent of their revenue annually due to coding and billing errors. Inadequate record keeping, incomplete submissions, and illegal shortcuts can also leave a practice vulnerable for an insurance audit.

You worked hard for your medical license. Only a professional, experienced billing company will help you protect it and thrive. We see the repercussions of common mistakes billers make every day. Consider using WCH's Second Opinion Internal Billing Audit Service to verify that your processes are sound, identify errors and recommend improvements.
WCH Partners With Practices to Provide Value-Added Services and Protection
With so much at risk, it's important to have professionals in your corner who know your business, care about your business, and have the expertise to fight for every claim, overcome denials, and find ways to optimize revenue cycle management.

WCH builds true business partnerships with education, communication, practice consultation, chart audits and other customized revenue cycle management services. As one long-time client puts it: "I can always call and speak to my WCH account manager, a person who sometimes knows my patients better than my front desk!

We are always happy to answer questions, discuss options, and help medical providers make the best business decisions for their practice. You can reach me at: (718) 934-6714 ext. 1201.