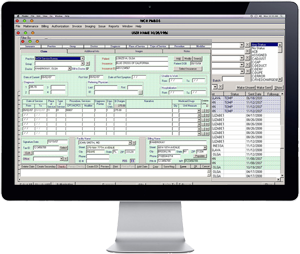 MEDICAL PROVIDER CENTRIC BILLING SOFTWARE:
This medical billing software was built with the expertise of physicians, medical billers and collectors who use these programs every day!
WCH's professionalism in medical billing, provider credentialing, CVO, office management combined with experience of our programmers has helped create a one of a kind medical billing program and practice management system. WCH is a registered vendor with Medicare & Medicaid. In addition, our software for medical billing, (PMBOS), is recognized by most major insurance companies such as GHI, Blue Cross Blue Shield and Value Options.
PMBOS is an abbreviation of Patient Management Billing Operating System. It is an effective and efficient medical billing program. The advantages of the billing software are:
Never losing a claim
The best front office management tool;
Robust billing fraud prevention
APPOINTMENTS CAN BE MADE IN THE SAME MEDICAL BILLING SOFTWARE
Everything starts at the front desk! The appointments screen is one of the features offered that allow providers and their staff to schedule as well as maintain appointments, patient's data, ledger, authorization and much more:
Flexibility to view, edit and print any information on the patient or the visit.
Patient profile contains ledger co-pay, authorization information and insurance coverage.
Ability to attach images.
Color code appointments.
Multiple provider displaying options.
Variety of comfortable features and different type of appointments, such as patients, business meetings, etc.
Create custom reports.
Print superbills for appointment with patient information on the form.
MEDICAL BILLING PROGRAM (PMBOS) BENEFITS:
Receive between 98to 100% reimbursement.
Save time on the claim submission process
Ability to a attach images.
Maintain accurate patient history from the first visit by matching claims billed in accordance to the appointment schedule.
Manage deadlines, tasks, claim follow ups and credentialing dates by using the task management system.
Forget manual posting, start importing payments electronically.
Creates paperless environment and keeps your front desk organized by scanning documents, attaching patient files and checks to claims payments.
BILLING PROCESS INSIDE OF OUR SOFTWARE FOR MEDICAL BILLING:
The medical billing program follows regulations as well as guidelines of CMS, LMPR and HIPAA.
Maintains providers' ids, tax id, and network status with the insurance company.
View history, resubmit claims, monitor payment and create follow up dates.
Creating and managing authorization.
Electronic submission of primary and secondary claims.
Electronic Medicaid authorization.
Automatically creates secondary claims.
Generating outstanding reports to be used as discussion material for the next office meeting.
Billing patients.