Ask the expert
7/19/2017
Why is my superbill being returned? What information am I missing to make it complete?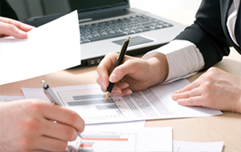 Question:
It seems that more of my superbills are being sent back with requests for more information. What am I, and my staff, missing?
How can I prevent this from holding up claims?
Dr. P
Answer Provided by WCH Billing Department Manager Olga Mirolyubova:
All superbills must be filled out completely and accurately within 60 days of service to produce a clean claim that will be reimbursed by insurers.
The only reasons we return superbills are because they are incomplete or illegible. We also require providers to review and sign their superbills to make sure all of the information corresponds to what is recorded in a patient's medical chart. This is especially important if there is an audit.
If a practice has more than one location, all locations should be noted on the superbill, and the location where service was provided should be clearly marked. If there are multiple providers in a practice, the superbill needs to clearly identify who provided each service.
In order to produce a clean claim, all superbills must include:
Legible practice name, facility address, rendering provider name and signature
Date of Service(s)
Patient's last/first name and date of birth (must be legible)
CPT (Current Procedural Terminology) code printed, marked, or legibly handwritten
ICD-10 (International Classification of Diseases, 10th Revision) printed, marked, or legibly handwritten
Modifier(s) printed, marked, or legibly handwritten
Units printed, marked, or legibly handwritten
Payor's name and ID printed, marked or legibly written
The superbill should also include additional treatment details such as: referring, ordering, and/or attending physician name; hospitalization days; and NDC (national drug code).
Providers need to provide as much detail as possible for each visit. For example, "finger fracture," is not enough. A biller can't assume which finger it is, what part of the finger was fractured, or if a service was an active or subsequent treatment. Billers need all of this information to assign an ICD-10 code.
This applies to any piece of missing information. For instance, if a provider performs a unilateral procedure, he needs to identify which side. Pneumonia needs to be broken down into stages, such as active treatment, or stage two. Billers are not allowed to add modifiers, even if they're obvious. All patient and treatment information needs to come from the provider.
Providers who are still using old superbills need to update them to make sure they meet ICD-10 requirements for including new and more detailed information.
Superbill mistakes lead to denials. While providers may not pay a lot of attention to them, billers know the importance of creating a clear superbill to avoid denials.
Liked the article? Share with friends: