Real-Time Eligibility Verification
Eligibility
WCH Service Bureau Real Time Eligibility application eliminates the need for the healthcare provider to spend a lot of time calling insurance companies or searching on their web portals for patient eligibility information.
From our years of experience in the healthcare industry, we know the importance of patient eligibility. It helps prevent denied claims and reimburses the service that you provided.
With this application, you can check patients' eligibility easily with the insurances that you need. Just enter the basic information and receive eligibility information quickly, including coverage status, the type of health plan, group deductibles and specific co-pays.
Benefits of
the application

Over 300 payers accessible through a single sign-on

Get the most correct and up to date insurance eligibility information

Complete online

(Available 24 X 7 X 365)

Predetermine the Deductible and Physical Therapy CAP limit
(especially for Medicare beneficiaries)

Eliminate time-consuming phone calls

Print eligibility info directly from the site

Verify eligibility on every bill to prevent rejected claims

Improve your cash flow by correctly collecting co-payments and service fees up front
Available insurances
Note:
If you don't see the required insurance below please contact us.
Insurances | Checking Succesfull
AARP

AETNA

Aftra Health Fund

American Postal Workers Union (APWU)

AmericChoice of New Jersey (Commercial)

AMERIGROUP

BCBS of Connecticut (Wellpoint)

BCBS of New Jersey (Horizon)

BCBS of New York (Empire)

Blue Cross of California (Wellpoint)
Blue Shield of California

CIGNA

ConnectiCare

Fidelis Care New York

Government Employees Hospital Association (GEHA)

Great-West Healthcare

Healthfirst New York

HIP NY

Humana

Medicare Part A and Part B
MVP Health Care (New York)

National Association of Letter Carriers (NALC)

Oxford Health Plans

Principal Financial Group (Principal Life)

TRICARE-All Regions

Unicare (Anthem Wellpoint-All States)

United Healthcare

USAA Life Insurance Company
Insurances | Available by request
Acordia National - Mohawk ⁄ Hickory Springs

Aetna Long Term Care

AFLAC - Dental

Alabama Medicaid

AMC - Alaska Electrical Health & Welfare Fund

AMC - American General Life and Accident

AMC - Health Future

AMC - Poly America

AMC - Touchstone PSO

American Community Mutual
American Family Insurance Group - Medicare Supplemental

AmeriHealth Administrators

AmeriHealth Mercy Health Plan

Ameritas Group - Ameritas Life Insurance Co.

Ameritas Group - First Ameritas of New York

Ameritas Group - First Reliance Standard Life

Ameritas Group - Reliance Standard Life

Ameritas Group - Reliance Standard Life
Arizona Medicaid (AHCCCS)

Arizona Physicians IPA (APIPA)

Arkansas Medicaid

Assurant Health - John Alden Insurance Company (JALIC)

Assurant Health - Time Insurance Company (FIC)

Assurant Health - Union Security Insurance Company (FBIC)

AultCare

AvMed Health Plans

Arizona Physicians IPA (APIPA)
Price Plan
Before using our services, please get yourself acquainted with the terms and policies.
To begin using our services, please
send us a request
| | |
| --- | --- |
| Cost per request: | $0.17 |
| Payment frequency: | monthly |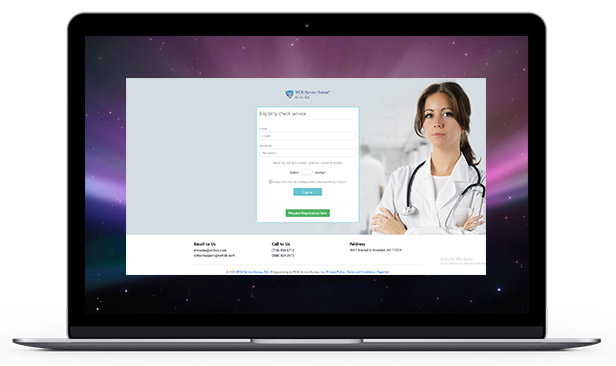 STEP 1.
Please enter your user name as well as password and click login.
STEP 2.
This is a request form for real time eligibility. You need to enter required information (patient's last and first name, patient's sex, patient's date of birth, insurance name, insurance id number, SSN number, eligibility date) into the appropriate fields and click submit request. If some information is missed you will not be able to submit the request. After request is submitted, you will then see a table that says the request was successfully submitted.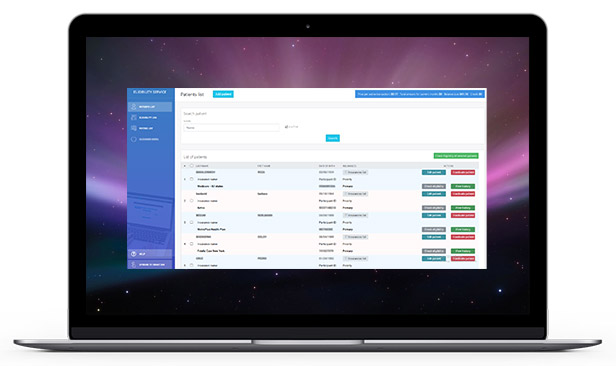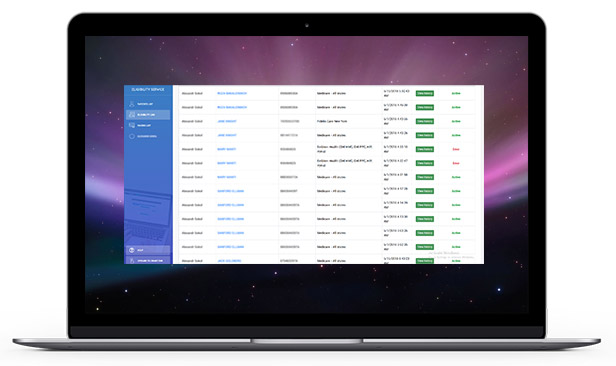 STEP 3.
You will then need to click on "History." There is a list of patients for whom requests were submitted. You can sort this list by insurance name, provider's name, inserted date or by personal patient's information. To view details, you must click "View Response."
STEP 4.
Patient's data. After clicking "View Response," a new window is displayed. Personal information such as patient's name, address, insurance and id number, is at the top of the page. Then click "insurance eligibility status and benefits report," to view the patient's health plan, effective and termination dates, as well as deductibles and co-pays.