Can you recommend a device or service that can type patient visits into EHR?
5/28/2017
Can you recommend a device or service that can type patient visits into EHR?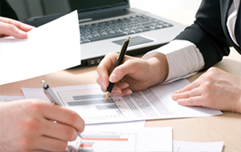 Answer provided by Olga Khabinskay, WCH Chief Operating Officer
There are many medical transcription products available today designed to meet each doctor's needs, whether traveling from location to location or seeing patients in one place. Capterra offers a list of the Top Medical Transcription Software Products. 
When considering a transcription process or product, make sure it is HIPPA compliant. 
Some providers may prefer to use a dictation software application and send a voice recording to a medical transcriptionist. Several products allow doctors to dictate directly into an iPhone and send the file to a typist for transcription. Examples of playback tools  for transcribing those recordings are listed here: NCH Dictation Software.
All records submitted to transcriptionists must be secured according to HIPPA regulations. Both voice records and transcribed records most be stored properly so that no unauthorized people can access them or recover them when they are deleted to be inserted into an EHR. It is a good idea for providers to do a security risk analysis on all processes related to recording, transcribing and storing patient records.
For examples of products with online job monitoring/editing, EHR compatibility, dictation in online or offline mode and more, go to the Athreon Mobile Dictation Services site.  Make sure the chosen product meets all needs and is HIPAA complaint!
Liked the article? Share with friends: