Committed to Continuing Education
4/28/2017
Committed to Continuing Education:
Advanced Certifications Make Billers Better
 Billing Department Supervisor Elvira Kasimova and Account Representative Maria Chechina are the latest WCH employees to earn prestigious professional certifications as part of the WCH commitment to professional advancement. How qualified are your billers?
"Medical insurance requires a strong grasp of complicated issues and processes," says WCH Chief Operating Officer Olga Khabinskay. "Government and private insurers issue new rules, regulations, codes and guidelines every day. Professional billers need to continuously progress in order to best serve healthcare providers. WCH staff are continually adding new certifications to master coding, billing and auditing and share knowledge with clients." 
Billing Department Supervisor Elvira Kasimova, CPC, CPMA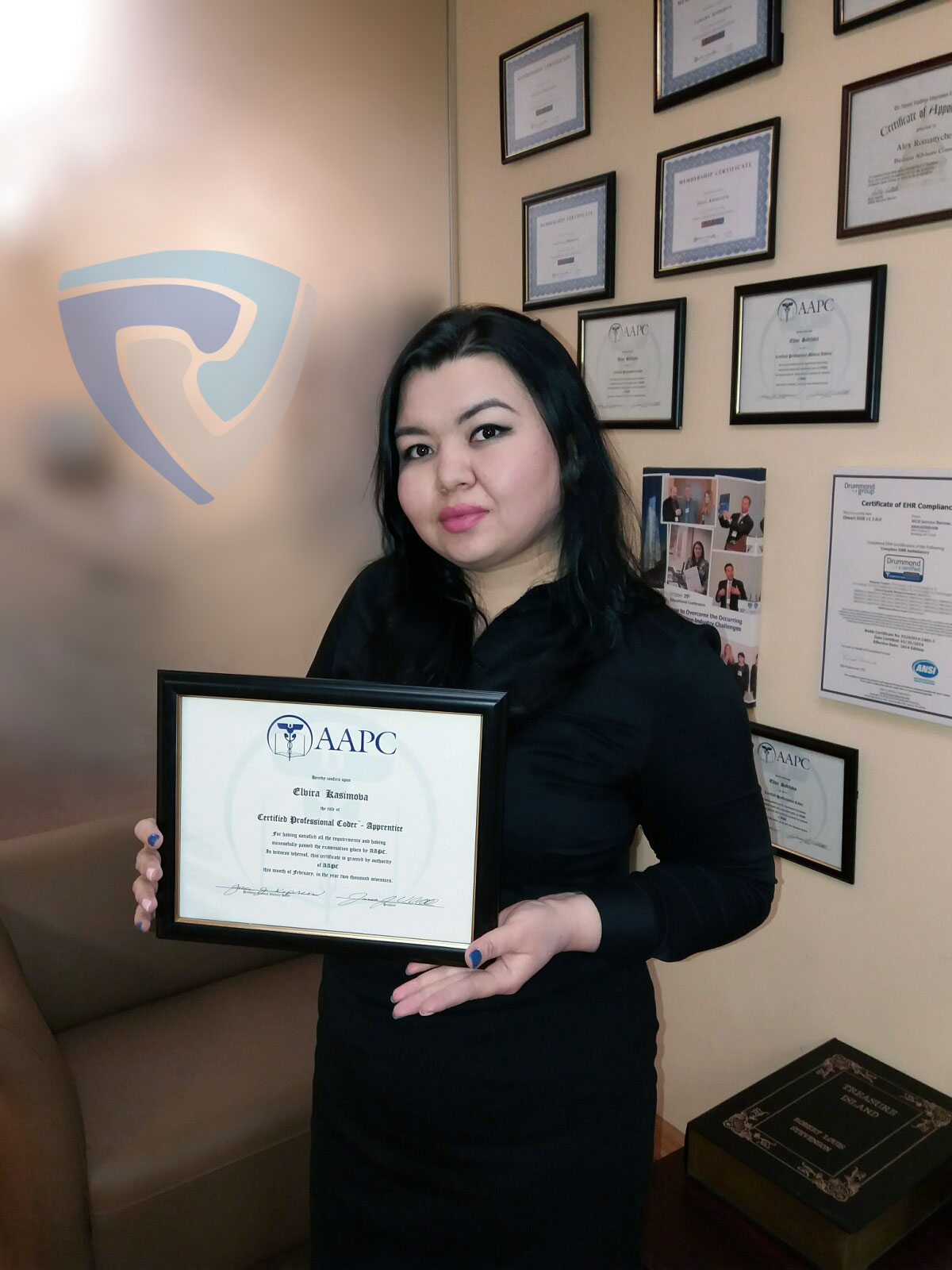 Elvira studied for the American Association of Professional Coders (AAPC) Certified Professional Coders (CPC) exam for more than a year. Her hard work paid off when she earned her CPC certification with high grades in February, successfully answering most of the 150 questions posed in less than six hours (you have to answer 105 to pass). 
Her ability to perform well under pressure allows her to tackle just about any issue a provider may encounter. "During the test, you can consult three very thick manuals full of procedures and diagnoses," says Elvira. "You have to know exactly where to look to find the answers on time. Billers need to have access to all of the latest information, know how to interpret it, and be confident guiding colleagues and clients." 
In April, Elvira added Certified Professional Medical Auditor (CPMA) to her accomplishments. This additional level of expertise makes her even more qualified to help clients stay compliant with changing guidelines and regulations. 
Elvira's AAPC membership provides ongoing access to information on current issues and requirements. She also earned Centers for Medicare & Medicaid Services (CMS) certifications in Medicare Fraud and Abuse: Prevention, Detection, and Reporting and Diagnosis Coding: Using the ICD-10-CM.  
Account Representative Maria Chechina, CMRS

Maria specializes in multi-specialty billing, coding, collections, and credentialing, as well as fraud and abuse training. She is always researching, reading healthcare news, attending webinars, and sharing her knowledge and expertise with specialty providers and insurance representatives. 
In March, she earned her Certified Medical Reimbursement Specialist (CMRS) certification from the American Medical Billing Association (AMBA), which required her to answer questions about insurance careers, coding, medical terminology, anatomy, case studies, claim forms and more. She is preparing to take the CPC exam this summer, followed by the CPMA.  She won't stop there. 
"I want to earn all of the certifications I can," says Maria, "I'm proud to be part of a company that encourages professional advancement. Advanced certifications verify that we are highly qualified and committed to continuously acquiring more knowledge and skills."
Maria is an AMBA member. She has completed AMBA and Professional Association of Health Care Office Management training on: How Billing Companies and Their Provider Clients Can Improve Their Compliance with Statutory and Regulatory Requirements; The False Claims Act and its Impact on Third-Party and Health Care Providers; and Pre-payment Reviews, Post-Payment Audits and Suspension Actions Impact on Third Party Billers and Healthcare Providers. 
Weekly WCH Education Sessions Keep Employees Current  
Every time a WCH employee achieves a new certification everyone benefits from access to new information and resource materials. Teams meet weekly for training on current guidelines, regulations and issues. They collaborate every day to help clients solve complex issues, and learn from each other's cases. WCH also tests employees frequently to assess knowledge and monitor progress.
WCH's Information Technology and Credentialing teams communicate regularly with billers as well, to make sure account representatives have the information they need to help clients take advantage of easy-to-adapt electronic applications and guidance with enrollment issues.
"Education and experience prepare us to more easily identify problems so we can help providers avoid costly coding and billing mistakes that could lead to audits," says Elvira. "Attaining higher levels of professionalism fosters trust. Passing challenging exams verifies we know practically everything there is to know about our jobs, and we know how to research the rest.  We know what we're doing and we can help." 
"WCH: We Can Help! Those aren't just words," says Elvira. "It's how we ensure our clients are successful."
Liked the article? Share with friends: