Credentialing: What They Didn't Teach You in Med School
5/28/2017
Credentialing:
What They Didn't Teach You in Med School
By Olga Khabinskay, WCH Chief Operating Officer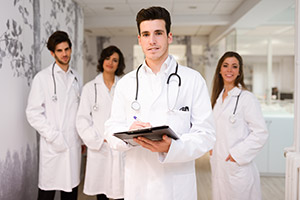 WCH helps post-residency graduates navigate the business of medicine, select where to practice and get into closed insurance panels.
Just because you're going to be a great doctor, doesn't mean you will be great at the business of medicine. They're two very different abilities and medical schools these days only teach the medicine part. Unfortunately, they don't teach new doctors how to choose a practice model, open a business, get into increasingly closed insurance panels or market services to patients.
Do you want to start your own practice, work for a hospital or join an established group? What you might not know is that you need to know the answer to "Will I be able to get onto an insurance panel and bill patients?" before you establish an office or join a practice.
Location, Location, Location
As a result, the most important decision is location – where not to open – as well as how to find a suitable location based on the ability to get onto insurance panels.
Don't rush into a lease. Do your research. Explore the area. Study the traffic. Is the neighborhood safe? How competitive is it? How will patients find you? Are the sites you're exploring close to transportation?
Once you've narrowed it down to a few places, work with a credentialing company, like WCH, to find out if insurance panels are open there. If there are already 10-15 other providers with your specialty within a three-five mile radius, you'll need to prove what sets you apart from the rest or risk being rejected.
That's where an experienced credentialing specialist comes in. We have strong relationships with insurance representatives. They take our calls. And we know how to package a doctor and present him as a necessary addition to a closed panel.
For example, we have two clients who are podiatrists. One of them is also a surgeon. We'll have a better chance of getting him into a closed panel because of his additional qualifications.
The phone calls don't stop there. If an insurance representative tells us a community is oversaturated, we will call all of the area practices listed in the network directory to confirm they are still there.
This worked out very well for one well-respected podiatric surgeon. Our contact at a major insurer said there was nothing he could do because the Jamaica, Queens, neighborhood the doctor selected already had 12 podiatrists. We discovered 25 percent of the offices listed were permanently closed, proved there was now a need in the community, and secured a spot for our client.
Don't Delay
Start the credentialing process as soon as you sign the lease. While you're waiting for commercial carriers you can see patients covered by Medicare and Medicaid, which are always open to new providers.
Some offices introduce themselves to their community during this time with grand opening events featuring free flu shots, screenings, and other complementary services.
While you don't need credentialing if you don't bill insurance, you will close yourself off from a significant patient pool. That listing in an insurance directory is a very strong marketing tool. It's how patients find you.
How to Stand Out and Get In to Closed Panels
Pursue additional degrees and certifications – For example, a doctor of physical therapy who specializes in hands, orthotics or prosthetics is a valuable addition to any network.
Speak several languages.
Specialize in unusual procedures, surgeries or diagnoses.
Use sophisticated equipment and provide distinctive services.
Work after hours – one primary care physician whose clinic sees patients from 5 pm–12 am got into several closed panels because he filled a gap in after-hours coverage.
Find an advocate/credentialing team with experience, contacts, tools and breadth of services.
Credentialing Necessities
Commercial insurance requires hospital affiliation, preferably 30 minutes from a doctor's office.
While Medicare and Medicaid do not require a hospital affiliation, a doctor opening a new practice must have a lease agreement. Banks offer medical financial programs that cover the lease, rent, equipment and furniture.
If you work with another doctor or practice, make sure to file a W-9.
Beware of quick fixes. Don't let someone convince you to join a practice, see patients, and bill under someone else while you're trying to get into a closed panel. That's fraud.
 
Room to Grow
Find a partner you can learn from and grow with. While a small credentialing company may be able to help with that one step, the relationship ends there.
WCH knows billing, coding, chart writing, and audit, and can consult with healthcare providers on other aspects of practice management. Sometimes it's just a conversation. We may pick up on something a doctor tells us she wants to do and be able to help her strategize, plan, and connect with other resources.
These days, it's virtually impossible to establish and run a practice alone. We have seen too many doctors try to do everything themselves and fail. It's important to build a team, find a strong manager and work with professionals who can guide you through credentialing and help you establish effective billing and other office management processes.
Liked the article? Share with friends: