OLGA KHABINSKAY 2014 New York EMA Winner by SMART CEO
5/19/2014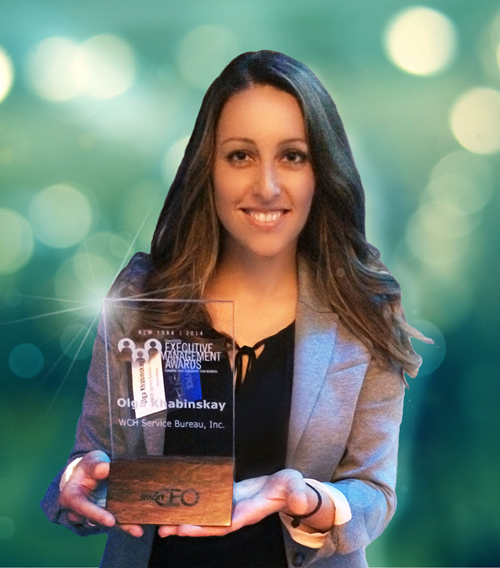 Presented by SmartCEO, the Executive Management Awards highlight chief executives who have gone above and beyond to support their organizations' initiatives. SmartCEO profiles executives in the Greater New York area in five categories: CFO, CIO, CTO, COO and CXO. The Executive Management Awards program recognizes the achievements of Greater New York's management for their creative management vision, leadership philosophy, innovative strategy and undeniable work ethic.

WCH CEO and staff are all extremely happy for yet another achievement of our COO Olga Khabinskay. Olga has been a crucial building block for the company and has contributed much to the company's growth and development over the past 13 years. Ms. Khabinskay vision, strategy and leadership skills have shaped and formed WCH Service Bureau. All WCH staff congratulates Olga with this great achievement!

Olga has competed with other executives in the Greater New York area for the award and WON!

The 2014 EMA winners collectively generate more than $6 billion in annual revenue and employ over 14,000 individuals in Greater New York. This year's winners were recognized in the April issue of SmartCEO magazine and celebrated at an awards ceremony on April 30th at Capitale.
Find more on http://viewer.zmags.com/publication/94a8a7ae#/94a8a7ae/44
Liked the article? Share with friends: