Tiptoe into Technology with WCH's E-Superbill: It's Quick, Easy, and Efficient
4/28/2017
Tiptoe into Technology with WCH's E-Superbill:
It's Quick, Easy, and Efficient

Healthcare providers tired of creating endless amounts of paper superbills now have a better option.
WCH's e-superbill program takes 10 minutes to learn, five minutes to fill out and submit and eliminates paper trails while keeping track of every claim filed. And bills can be processed faster with fewer mistakes.
"A client who manages his wife's medical office told us she spends hours every Friday catching up on a week's worth of paperwork," says WCH Chief Operating Officer Olga Khabinskay. "She writes all of her patient notes on the weekend and brings everything back to the office on Monday to be delivered by driver. 'There must be a better way!' he said."
There is. With only a few minutes of training, WCH can help technology-resistant practices become more streamlined using a FREE electronic superbill feature to submit billing electronically. Less paper. No lost records. No more piles of backed up paperwork. No more messengering. And WCH will customize each practice's e-superbill with the updated codes they use most frequently.
"Clients who are drowning in paperwork tell us they're looking for an easier way to submit and track information," says Olga. "Using WCH's e-Superbill is the fastest, easiest way to start operating more efficiently, reduce paper and submit more consistently accurate claims."
The time-saving, easy-to-use program, accessible with or without internet access, allows practitioners to:
Record patient visits
Review patient charts
Research diagnoses and procedures
Add new patients
Submit bills on their Smartphone or Smartpad using cellular data if they are out of the office and Wi-Fi is unavailable.
"Clients are amazed by how easy the e-superbill is to fill out," says WCH IT Department Manager Ilya Mirolyubov. "All you need to do is open a window, check procedure and diagnosis code boxes, enter notes, hit a button and off it goes."
The electronic superbill then becomes part of a patient's permanent digital record and is easier to manage than a cumbersome paper chart trail.
The web-based program is 100 percent HIPAA-complaint, and cycles off every five minutes for maximum security. Information is sent directly to WCH billing experts who check codes, correct errors and submit to insurance for payment.
Additional capabilities include invoicing and the ability to send screenshots of completed superbills.
WCH's free e-superbill is available in several easy-to-adapt formats. Simply ask your WCH representative to schedule an online training session. WCH's IT support team will set up your e-superbill and make sure you understand how to file at your desktop, on a mobile laptop, or using a Smartpad or Smartphone.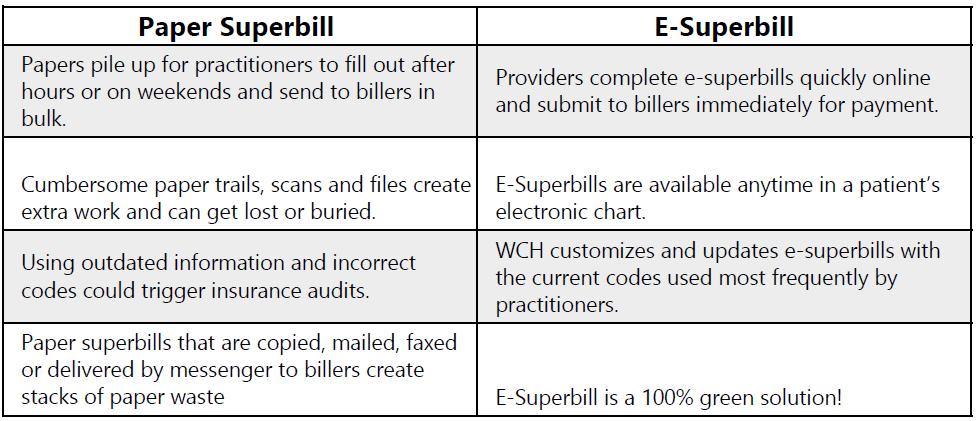 Liked the article? Share with friends: