WCH Organized Webinar on NYS Requirements – Medicaid Update
12/5/2017
WCH Organized Webinar on NYS Requirements – Medicaid Update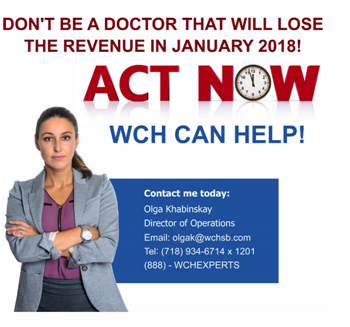 Recently, it has been announced that all Medicaid Managed Care providers must be enrolled with State Medicaid programs no later than January 1, 2018. Otherwise, they will be removed from the Medicaid Managed Care Provider Network. Enrollment process is rather complex and time consuming. Yet, because of such factor as time pressure providers should be more accurate now not to underestimate the importance of the Medicaid latest update.
To make the current situation clear, WCH has organized a free webinar to discuss New York State requirements which will affect your practice as of New Year. It took place on Tuesday, 10/24/2017. The host of the webinar Olga Khabinskay, COO of WCH explained to participants the necessity of this enrollment describing the process in details. As Olga knows exactly with what kind of difficulties providers have to meet, she has shared useful tips on how to be enrolled in one shoot.
The webinar was participated by 15 providers. During the webinar, Olga Khabinskay recommended to check enrollment status of referring providers in Medicaid. As according to the requirements of the new law, OPRA providers must be enrolled in Medicaid, too. Olga also raised a topic on provider specialties that need to be enrolled. You can see the full list of these specialties here.
Providers asked numerous questions regarding specific Medicaid requirements on enrollment such as what forms should be filled and what kind of supporting documents should be submitted along. WCH has successfully consulted the webinar participants and conducted training on how to use tools on Medicaid website necessary for checking status of Medicaid provider participation.
Thus, once again WCH has proved how much we care about our clients providing essential and up-to-date information along with our willingness to support the providers in solving complex problems.
Past Webinar recordings available on WCH website or YouTube channel.
Liked the article? Share with friends: