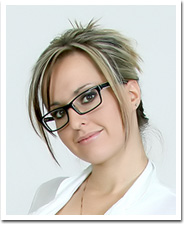 Julia Bondarenko
Credentialing Specialist

With more than 13 million medical practitioners currently operating in the U.S. along with the average practice length of about 40 years, insurance panels are quickly becoming filled and are slow to accept new medical providers in to their network.

If you have just expanded your practice or are racing against time as a new graduate and need to get your practice rolling, we can help! Our experienced credentialing department enables us to provide great service which will be done in an affordable way, without the outrageous fees that some organizations or law firms charge.
As an experienced credentialing service company, WCH works with great efficiency to get our clients enrolled in various insurance companies. Our company understands the credentialing process, rules and regulations of different insurance organizations as well as the complex provider credentialing requirements. We are familiar with the industry and procedures, which allows us to navigate the provider credentialing process in order to achieve quick and positive results.
By serving various types of medical practitioners, we have established strong, long-term connections and personal relationships with numerous provider enrolment representatives in many insurances. As a result, we are able to save you time and money on what could otherwise be a lengthy credentialing process.
WCH will provide timely results. Moreover, we simplify the credentialing process for you by eliminating aggravation and stress. We guarantee results for ever provider.
WCH specializes in enrollment of:
Independent Diagnostic Testing Facility (IDTF)
Durable Medical Supply (DME)
Pharmacies
Multi-Specialty Groups
Laboratories
Solo Groups and Physician Groups
Surgeons
Individual contracts, including all specialties
Transportation Companies
Early Intervention Agency (EIA)
Home Health Agency(HHA)
Credentialing covering All 50 States:
(AK) Alaska
(AZ) Arizona
(AR) Arkansas
(CA) California
(CO) Colorado
(CT) Connecticut
(DE) Delaware
(DC) District of Columbia
(FL) Florida
(GA) Georgia
(HI) Hawaii
(IL) Illinois
(IN) Indiana
(IA) Iowa
(KS) Kansas
(KY) Kentucky
(LA) Lousiana
(ME) Maine
(MD) Maryland
(MA) Massachusetts
(MI) Michigan
(MN) Minnesota
(MS) Mississippi
(MO) Missouri
(MT) Montana
(NE) Nebraska
(NV) Nevada
(NH) New Hampshire
(NJ) New Jersey
(NM) New Mexico
(NY) New York
(NC) North Carolina
(ND) North Dakota
(OH) Ohio
(OK) Oklahoma
(OR) Oregon
(RI) Rhode Island
(SC) South Carolina
(SD) South Dakota
(TN) Tennessee
(TX) Texas
(UT) Utah
(VT) Vermont
(VA) Virginia
(WA) Washington
(WV) West Virginia
(WI) Wisconsin
(WY) Wyoming
Medicare enrolment specialist.
New Enrollment
Changing Information with all payers
EFT Setup
Participation
Re-assignment of Benefits
Prices are per insurance / organization / health plan
DME Accreditation:
NPI - $50.00 Option A - $75.00 per⁄hr
IRS⁄NYS⁄ED - $300.00 Option B - $ 2,000 - 4,000 (flat fee)
MEDICARE: MEDICAID:
855I - $700.00 Individual - $500.00
855B - $700.00 Group - $600.00
855R - $150.00 Any Update - $150.00
CMS 460 - $150.00 Add to Group - $75.00
588 EFT - $200.00 Set up EFT - $100.00
Reinstatement - $500.00
UPDATE CMS - $200.00 Provider Id Request - $100.00
IDTF:
1-2 Equipment - $3,000.00
3 and more Equip - $6,000.00
Update⁄Add Info - half of full price
Update⁄Add Info - half of full price
DME:
1-2 location - $4,000.00
3 and more - $6,000.00
Package I (1-10 insurances) - $4,000.00 ($400 per insurance)
Package II (15-20 insurances) - $400 per insurance + 10% discount
Add Tax Id - $200.00 (UHC/Americhoice/OXHP)
- $75.00 (all other plans)
CareCore w/ accreditation - $2,000.00
CareCore w/o accreditation - $4,000.00
Add of Location - $75.00
License New State - $1,000.00
Hospital Affiliations - $500.00
Change of Name - $100.00 (UHC⁄Americhoice⁄OXHP)
Re-Credentialing - $200.00
Civil Surgeon - $400.00
Government ⁄ Facility Contracts - $2,000 - $4,000.00
Update CAQH - $100.00