Medical provider centric billing software:
This medical billing software was built with the expertise of physicians, medical billers and collectors who use these programs every day!
WCH's professionalism in medical billing, provider credentialing, CVO, office management combined with experience of our programmers has helped create a one of a kind medical billing program and practice management system. WCH is a registered vendor with Medicare & Medicaid. In addition, our software for medical billing, (PMBOS), is recognized by most major insurance companies such as GHI, Blue Cross Blue Shield and Value Options.
PMBOS is an abbreviation of Patient Management Billing Operating System. It is an effective and efficient medical billing program. The advantages of the billing software are:

Never losing a claim

The best front office management tool

Robust billing fraud prevention
Appointments can be made in the same medical billing software
Everything starts at the front desk! The appointments screen is one of the features offered that allow providers and their staff to schedule as well as maintain appointments, patient's data, ledger, authorization and much more:
+

Flexibility to view, edit and print any information on the patient or the visit.

+

Patient profile contains ledger co-pay, authorization information and insurance coverage.

+

Ability to attach images.

+

Color code appointments.
+

Multiple provider displaying options.

+

Variety of comfortable features and different type of appointments, such as patients, business meetings, etc.

+

Create custom reports.

+

Print superbills for appointment with patient information on the form.
---
Medical billing program (PMBOS) benefits:
+

Receive between 98to 100% reimbursement.

+

Save time on the claim submission process

+

Ability to a attach images.

+

Maintain accurate patient history from the first visit by matching claims billed in accordance to the appointment schedule.
+

Manage deadlines, tasks, claim follow ups and credentialing dates by using the task management system.

+

Forget manual posting, start importing payments electronically.

+

Creates paperless environment and keeps your front desk organized by scanning documents, attaching patient files and checks to claims payments.
---
Billing process inside of our software for medical billing:
+

The medical billing program follows regulations as well as guidelines of CMS, LMPR and HIPAA.

+

Maintains providers' ids, tax id, and network status with the insurance company.

+

View history, resubmit claims, monitor payment and create follow up dates.

+

Creating and managing authorization.
+

The medical billing program follows regulations as well as guidelines of CMS,

+

LMPR and HIPAA.

+

Maintains providers' ids, tax id, and network status with the insurance company.

+

View history, resubmit claims, monitor payment and create follow up dates.

+

Creating and managing authorization.

Screenshots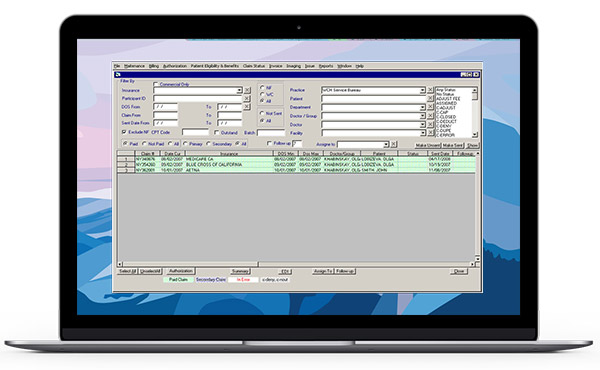 Main page: work with claims. This page is used to work with all claims of practices. You can use different filters to find those claims you would like to work with. You can sort claims by practice name, status, date of service, date of submission, insurance name, health plan, paid or not paid and primary as well as secondary claims. When you chose the necessary filters and click "Show," all claims that match the criteria are then displayed in the main window. For example (as shown on the screenshot) Filters: Practice name (WCH Service Bureau), Paid claims, All (primary and secondary) there are displayed 3 claims for Dr. Khabinskaya (this Dr is working under group WCH Service Bureau), with 2 different patients (2 claims for one patient and 1 for another). All billed claims have their claim# starts with NY… You can find specific claim by entering claim# (for example NY340876) in box Claim from.
Main page: work with claims. This is the same window as on screenshot 1. There are displayed claims for one patient billed under group WCH Service Bureau and under Dr. Khabinskaya. All claims have their color. Green means paid claim, blue means secondary claim (patient has more than one insurance, and creates when primary is paid), grey means closed claim which was denied and cannot be reprocessed for payment, white means claim is still in process and must be worked out. You can also use this page to create an EDI file or to select claims and send them to insurance companies for payment.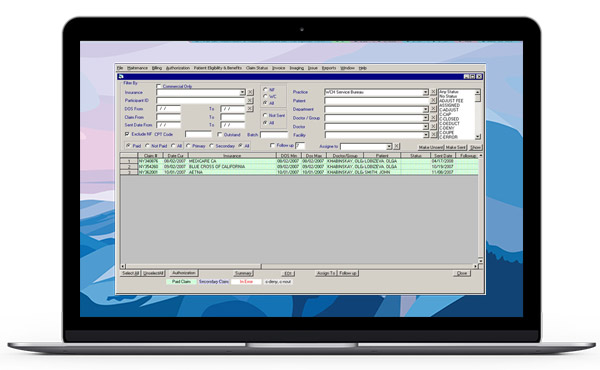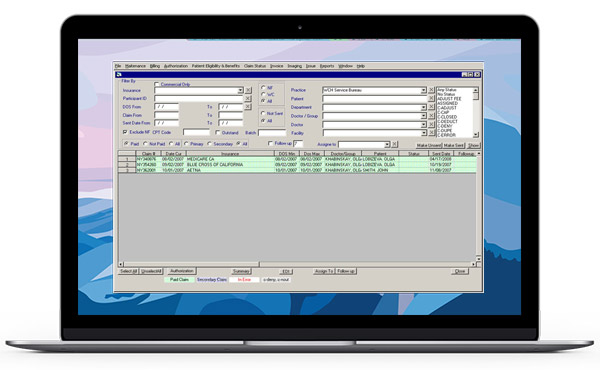 Claim Form interface. Use this form to create claims for the selected practice or provider, under the chosen patient. This claim form displays all of the information about the service that was provided for the patient on the exact date by the physician. There are also patient's insurance information, insurance ID number, diagnosis and procedure codes which were billed. At the bottom of claim form there is all information for provider, including Tax ID, NPI, PIN, billing and service addresses.
Patient information inlay inside of the claim form. To enter information for a new patient click "Add" the in claim form. To see information for existing patient, click "Modify" in the claim form. There are 6 inlays. Inlay "patient" includes all personal information for the patient, such as their last and first name, sex, date of birth, marital status, SSN number, home address, phone number and employer. Second and third inlay includes patient's insurance information, for instance, the name of the insurance company, their ID number, effective and termination date, policy holder information along with an address for claim submission. Others inlays are for any additional patient information.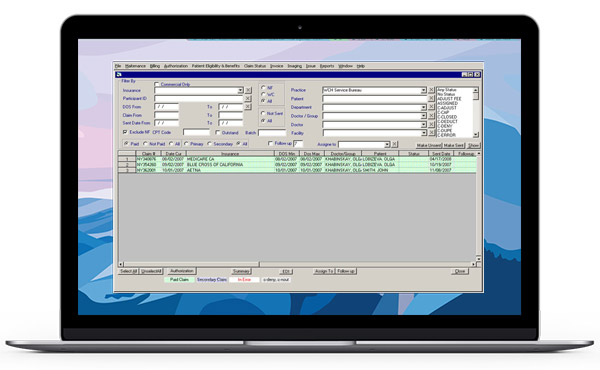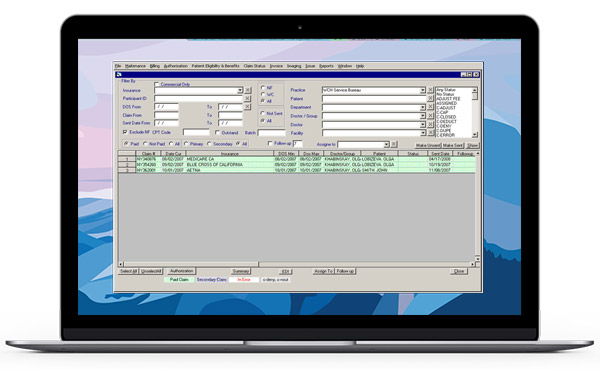 Payment information page. When claims are paid, an Explanation of Benefits is received from the insurance company. We are using this page to enter payment information in the PMBOS program. To open this window, you must first click on the "Work with claims" and select at the top" Billing and Payment." A new window will then be displayed. In this window, there is information regarding payment such as where the insurance payment was received from, under which provider and the check number along with the total amount. You must then enter claims that were processed for payment under this check. Claims are submitted under their number and are sent from New York. Within these claims, payment information is included such as how much was approved, how much was paid, if the patient must pay extra and adjustment codes. After payment was entered, claim becomes green in work with claims. The invoice can then be created and sent to the provider for payment.
E-Superbill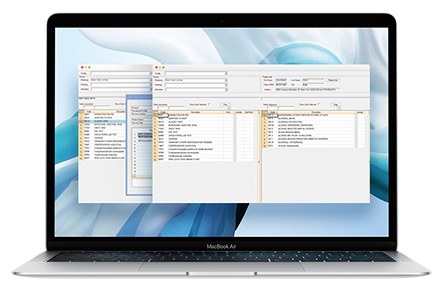 WCH is now offering the E-Superbill, a EMR/EHR from WCH PMBOS which is designed to save time, money and labor. The E-Superbill is a free feature, part of PMBOS that replaces the bulky forms used for the old paper superbill and replaced it with efficient, electronic, fast and easy E-Superbill It will document patient encounters in the "real time" mode.
E-Superbill provides the healthcare provider with very few clickable defaults directly into the entry screen, where the most commonly used procedures and diagnosis codes are readily available. Upon the completion of the visit, with a click of a button, the provider chooses the appropriate CPT codes, diagnosis code and the E-Superbill is ready to be seen by the biller. Eliminating several unnecessary steps in the process provides for fewer potential pitfalls which is crucial in this highly regulated industry.
Using the E-Superbill is more accurate and eliminates the guesswork of which CPT codes were circled on a bad copy of a paper superbill which results in incorrect billing. Further, it eliminates the frequently seen problems of medical billing which include missing a code when billing, or billing the wrong code, writing the wrong date, or having a hard time reading the date. Overall WCH E-Superbill is an effective and efficient way to transmit accurate data from the provider's office directly to your biller in the most precise and rapid way possible. It provides for a slighter chance of submitting the incorrect data to insurance companies and having to adjust claims for incorrect claim submission, raising fewer red flags and thus protecting the providers from future audits. It also, eliminates unnecessary work of personal and saves enormous amount of money spent for extra data entry job.
As mentioned above, the benefits for using WCH E-Superbill:
+

Reduces time

for internal office operation : no more writing, scanning, mailing, printing out paper suberbills

+

Saves money

by reducing paper and cartridge cost and save the printer drummer from being so overused.

+

Ensures accuracy

as information is never lost; there is always Method of control for users with dates and proof submission.
+

Introduces simplicity

providing an easy, secure and quick to share billing and other related data between WCH and our clients.

+

Connects instantly.

Connected with our program directly, reducing paper requests back and forth.

+

Provides reimbursement sooner

the billing get to us faster, our clients get their insurance payments faster, and everybody wins.
To get the many benefits of using our FREE E-Superbill contact your billing account representative at WCH TODAY!
System requirements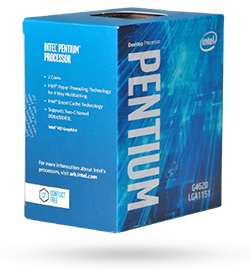 Workstations (other than Server)
The minimum system requirements are:
+

Personal computer running Windows 7 or higher (32-bit or 64-bit). Recommended minimum 2048 MB RAM.

+

Minimum resolution of 1024 X 768 is required. Standard computer monitors are supported with the use of a mouse to navigate the program

+

5 GB hard drive space

+

100 MBPS local area network (LAN) connection when using WCH PMBOS in a network environment. Single-user computer installations are also supported. Wireless networking is not recommended.

+

Printers and Scanners: Any page printer that can print from Windows is compatible with WCH PMBOS
For database, you need to use MS SQL Server 2008R2:
+

Minimum : 1 GB

+

Recommended: 4 GB or more

+

2 TB ( SQL Server Enterprise Edition supports a maximum of 2 TB of RAM or operating system maximum, whichever is lower).
Any editions of MS SQL Server 2008R2 can be installed and used, before installing please determine which features are supported by the different editions of SQL Server 2008 R2 and which best suits your requirements by visiting
Features Supported by the Editions of SQL Server 2008 R2
.
Frequently Asked Questions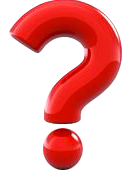 Client System Requirements?

Minimum System Requirements for PMBOS: Pentium 4 or newer (AMD CPU's Okay), 3GB RAM, 15GB Disk Space, Super VGA (1024 x 768) / 32 bit Color, 10-Base T Ethernet Card, Windows Operating System.

Internet Connection Speed?

2Mbit/s and higher.

Is PMBOS available in modules?

Yes. PMBOS has two basic modules: Practice management and Billing. Requests for development additional features can be accepted.

Where is data stored?

All data stored in the MS SQL Server Databases

Does the PMBOS generate reminders for physicians and other users?

PMBOS can generate reminders for users using Issues Feature.

Can the doctor create a note?

Yes. For Claims on claim level and for Appointments on appointment level.

HIPAA Transactions and Code Sets Certificates?

System can create HIPAA-compliant files in accordance with the final rule governing transaction standards and code sets.

User guidelines provided?

Yes. PMBOS offers a series of tutorial videos and help documentation.
How many hours of training are provided?

Practice management – 3 hours of training are included. Billing – 15 hours of training are included.

Once a contract is signed, how long does the implementation take?

PMBOS Installation - one day.

Can I create different security level for my employees?

Yes. PMBOS does support four security levels, each of them can be edited.

Do you have Custom Features?

Yes. We have Scan and Save feature, which allows map scanned super bill to the claim

How many staff can I add into the system?

One workstation license allows you to add one user.

How many services can I add into the system?

With PMBOS there is no limit to the number of services you can add.

Can I have multiple staff logged in at the same time?

Yes

How will PMBOS benefit my business?

PMBOS streamlines your operations. It was designed for doctor practice and includes features to simplify billing operations and manage your practice, use PMBOS to get efficient. The best way to determine if PMBOS is right for you is to start a free demo.